ABOUT NATALIE
First and foremost, Natalie loves Jesus Christ as her Lord and Savior. A close second, is her love for teaching and preaching the Word of God. Her desire is to inspire others to develop a deep and loving intimate relationship with Christ to experience the abundant life as promised in the Scriptures.
A graduate of Ashland Theological Seminary, Natalie holds a Master's degree in Practical Theology and considers it an honor to serve as an Associate Minister at Antioch Baptist Church in Cleveland, Ohio. Since receiving her license to preach the Gospel of Jesus Christ in 2011 under the leadership of Rev. Marvin McMickle, PhD, Natalie has delivered the Word of God with power and passion at Sunday Worship services, Women's Day programs, conferences, and workshops throughout the city, which she gives God all the glory.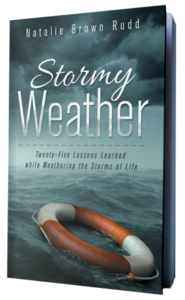 GET YOUR COPY
Stormy Weather: Twenty-Five Lessons Learned while Weathering the Storms of Life
Peace in Stormy Weather Women's Retreat Recap
During this sold out two day retreat, women will connected with other like-minded sisters. Together they learned to call on the Holy Spirit and pour out their hearts without fear, without judgment, and without hesitation. Together they created a safe space to cleanse thier minds, bodies, and spirits. Check out the video!